ISO Calibration For Fluke Insulation Testers $125 & $325
June Company offers rapid Fluke insulation tester ISO calibration service to comply with your ISO-9001 program. Along with other insulation tester calibration, we offer a flat fee of $125 for a tester with a 1000-volt limit. To begin the quick and easy calibration process with ISO-17025 certificate, please fill out the Service Request Form and a service representative will respond as soon as possible and usually within the hour.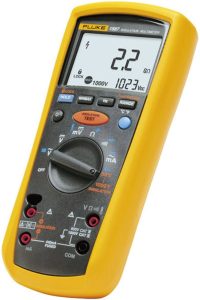 We also off ISO calibration services for insulation testers with 5kV and 10kV testing limits for a flat fee of $325. These calibration costs will not change or increase in the future, and all calibrations include an ISO-17025 certificate traceable to NIST guidelines. All calibration certificates are valid for one year per the ISO guidelines for annual calibrations criteria.