Fluke ProcessMeter ISO Calibration For $165
June Company offers ISO-17025 traceable calibration for Fluke processmeters for your ISO-9001-compliant company or organization. An ISO calibration certificate is provided with a one-year interval compliant for all ISO-9001 programs. To receive an expedient calibration for your Fluke processmeter, simply fill out the Service Request Form and a specialist will usually reply within the hour.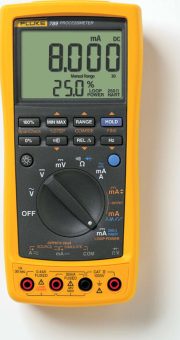 Along with proper use of your Fluke processmeter, ISO calibration ensures your Fluke processmeter is accurate and consistent. This is imperative during the testing of operations over time to provide a very accurate and consistent history of readings per application. Most ISO-17025 calibrations are returned with certificates within one to three business days with no additional charge.