Fluke Scopemeter ISO Traceable Calibration Flat Fee $245
June Company offers Fluke scopemeter calibration traceable to NIST standards. Fluke scopemeter calibration includes functional testing, battery assessment, load testing and calibration. If you are in need of calibration for your Fluke scopemeter (and other manufacturers are welcome for the same price). Please fill out the simple Service Request Form to begin the very quick process.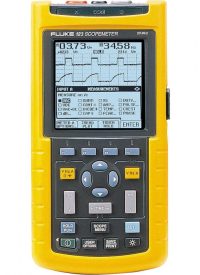 Normal Fluke scopemeter turnaround for ISO calibration service is 1-3 business days. The calibration price will not change in the future, and the ISO-17025 calibration certificate is compliant at an interval of one year. Feel free to inquire about other meters and analyzers needed for calibration at one time.